High Sheriff Ceremonial Hat handmade by Anna at The Beverley Hat Co
Posted on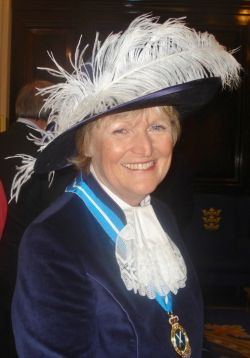 I have just finished making a hat for this years High Sheriff ceremonial role in South Yorkshire Yorkshire for Carole O'Neill.
This is now the 5th time I have made a ladies high sheriff hat and am aware of all the traditions and requirements needed for a hat like this.
We decided on the shape of the crown and brim separately, with the hat colour matching the velvet used in making the suit.
The brim turns up sharply at one side so that the face can always be seen and is not in shadow as would happen on a too large brim. For images of the final hat shape refer to the couture section in the online shop.
The crown sides were covered using the same velvet as the suit and 3 neatly cut ostrich feathers in white to match the lace collar were stitched onto the front of the hat.
A single large fluffy ostrich feather could also be traditionally used, but as the lady I have made this for has more delicate features this would have been too overpowering and be seen as 'all hat' from a distance. The cut ostrich ensures proportions are all correct for the final look.
The high sheriff represents the queen at many civic functions around the county and is often in attendance if royalty visit throughout their 12 month tenure.
This hat is worn on many occasions throughout the 12 months so I always ensure it is of the highest quality and structure to withstand repeated wear and still looks as good at the end of their year in term .